One of the best parts of any vacation is reconnecting with those you love.
As you carefully craft the guest experience in your home, consider the spaces people will use to come together with family and friends. For many, some of the best memories are made around the dining room table.
Whether time is spent over a shared meal, a game of cards, or heartfelt conversation, the dining room table should be a focal point of the home: a place to gather, to share, to reconnect, and to luxuriate in the company of loved ones.
This table is available through Maine Cottage.
In this regard, it is important that your home's dining room table be able to accommodate up to the full occupancy of your home. Guests don't want a single face missing from the table! Large tables with plentiful seating are major selling points for many prospective guests. Upgrading your dining room table can have a huge impact on the appeal of your home!
Beyond just providing ample seating, be sure to closely consider the condition of your existing table. Has the surface seen better days? Are the chairs old and rickety? If so, you may want to consider an upgrade. The table should be a sanctuary– a place where people feel at home.
Is your table a place guests will want to gather?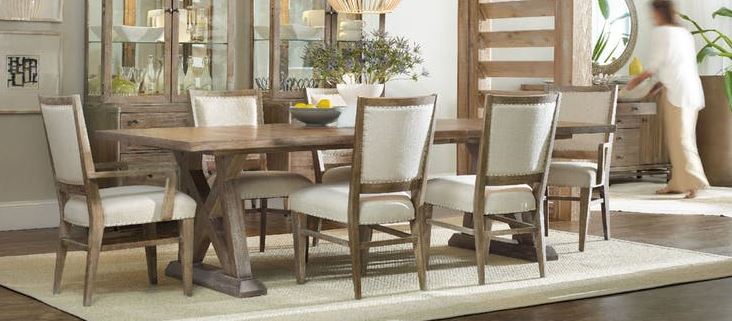 This table is available through Hooker Furniture. 
Cloth and Case offers a wide range of dining room tables available through several of our brands, including Hooker Furniture, Uttermost, and Maine Cottage. Explore these sites, pick out some favorite designs, then contact us for pricing information. Or, simply let us know you are thinking about upgrading your dining room table and we can take it from there. We are happy to survey your home, measure out the available space, and talk design with you in order to make recommendations custom-tailored to your home, style, and budget. We are here to help!
This Railey Vacations home, Timyla, recently upgraded their dining space with a new table, rug, and centerpiece from Cloth and Case!
Ready to explore more?